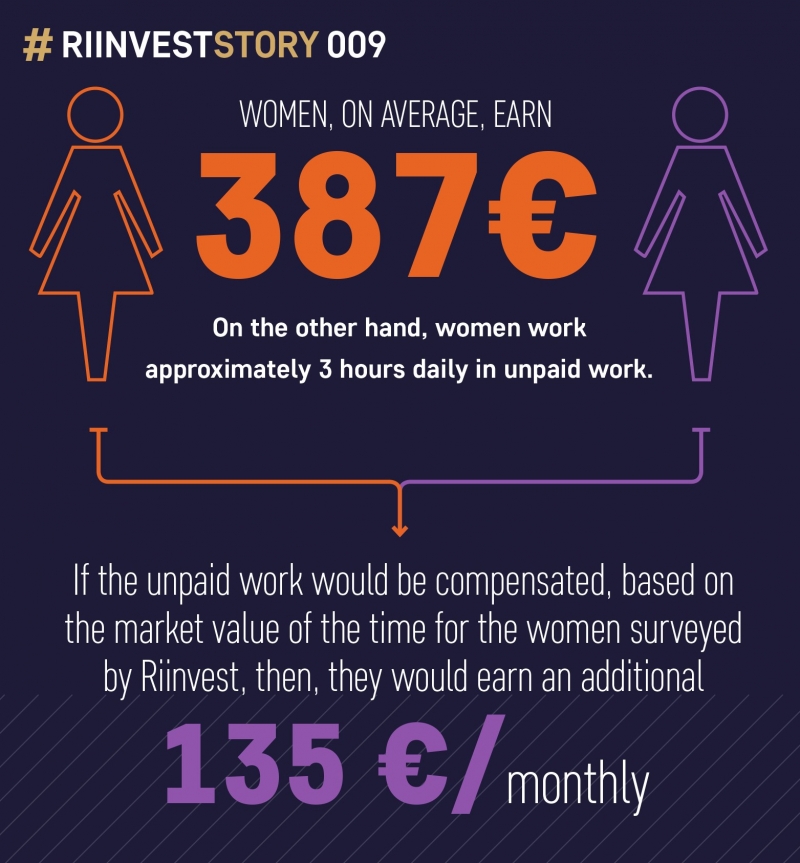 #RiinvestStory009
What if unpaid care work was paid?
World Economic Forum (WEF) data for women and men worldwide, show that women work on average 8 hours and 49 minutes a day, here including both paid and unpaid work; whereas men work 7 hours and 47 minutes (World Economic Forum, 2016). Out of these, for men only 1 hour and 30 minutes, on average, are unpaid care work, whereas women take the lion's share of unpaid care work amounting up to 4 hours 47 minutes a day.
In absence of Time Use Surveys, Riinvest surveyed women on time they spend working, showing that women on average spend 7 hours and 28 minutes working in paid work, and an additional 2 hours and 57 minutes on care and household work which is unpaid. Thus, on average, women spend 10 hours and 25 minutes working.
And this time spent working, in total, is not entirely paid. So what if it was?
One manner of illustrating the contribution of women in unpaid care work is evaluating the time they spend in this type of work, in terms of the market value of their hourly salary. This story looks at time women spend in paid and unpaid work, and the additional income women would incur, if the unpaid work was paid.
From the Riinvest survey, women, on average, earn 387 € monthly, meaning they are paid 2.15 € an hour in the market. On the other hand, women work approximately 3 hours daily in unpaid work. If the unpaid work would be compensated, based on the market value of the time for the women surveyed by Riinvest, then, they would earn an additional 135 € monthly, working at home – if only time spent working at home during workdays is calculated, and an additional 193 € monthly, if it accounts for every day of the month of 3 hours of work.
These calculations differ for different levels of income, however the conclusion remains the same – that is, if the unpaid care work would be compensated monetarily, women's income would increase by 35 percentage points, in a conservative case, and by 50 percentage points in a more realistic case. Time spent in unpaid and care work daily, differs with different salary levels. So does the opportunity cost of doing so. As is seen below, the spread in the difference between current salary and the potential salary to be earned (if unpaid work was paid) increases as the salary level increases, even though the time spent in unpaid work decreases with the increase in salary levels.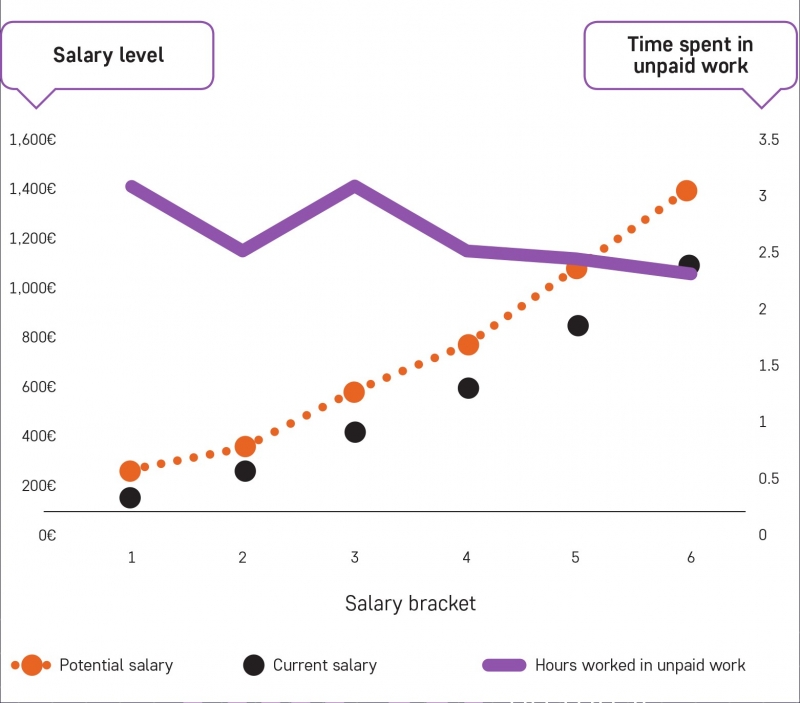 Apart from being a constraint to the time of women, the lack of valuation and compensation for unpaid work – which is largely a woman's burden, also undervalues her overall economic contribution. Thus, this analysis of additional income drawn from unpaid work, illustrates the monetarized contribution of women in the economy, beyond paid work.