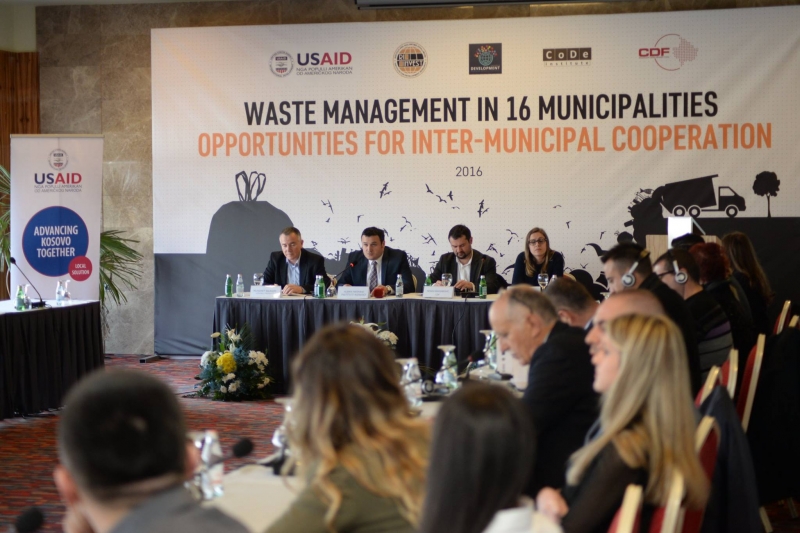 Forum on
Waste management in 16 municipalities
Riinvest Institute, in cooperation with other partner organizations "Development Group" and "Community Development Institute" part of the project "Strengthen Strategic Development and Cross Municipal/Community Cooperation and Partnership", organized a Waste Management Forum, where it was published Riinvest's report "Waste management in 16 municipalities".
The project is part of the program Advancing Kosovo Together – Local Solutions program funded by U.S. Agency for International Development (USAID) and implemented by Community Development Fund (CDF). The overall objective of the project is to encourage municipalities to establish partnerships and regional networks to address issues of common concern, consolidate and improve good governance standards, and develop new approaches to current and future challenges in local governance.
The forum was opened by Mr. Alban Hashani, research director at Riinvest Institute, who on his opening remarks mentioned the most important points of the project. A key point mentioned by Mr. Hashani was raising the level of inter-municipal cooperation in order to solve joint problems. After presenting key points of the project, Mr. Hashani also shortly presented the report on waste management, emphasizing that the report shows the actual condition in the 16 municipalities, joint problems, regional practices in creating inter-municipal cooperation, and opportunities on inter-municipal cooperation in waste management.
Mr. Nenad Maksimovic from Community Development Fund (CDF), emphasized the importance of the project from the perspective of the program "Advancing Kosovo Together – Local Solutions", which is implemented by CDF. According to him, this project helps CDF in reaching the objective of the program, which is the enforcement of positive and constructive inter-ethnic communication, focusing in problems, needs and joint solutions. Activities of the program "Advancing Kosovo Together – Local Solutions" will be focused on the engagement of people to think, talk and work together me members of other communities. Mr. Maksimovic ended up his speech encouraging municipal officials to participate in the discussion and generate creative ideas on inter-municipal cooperation.
Ms. Mimoza Hyseni from Kosovo Environmental Protection Agency opened her speech, discussing waste management in Kosovo. According to her, the challenges are really high since in Kosovo exist around 400 illegal landfills, and there are many problems with wastewater. She added that the Strategy for Waste Management 2015-2020 has been approved, and mentioned some challenges with that they face while implementing the strategy. Also, she mentioned that inter-municipality cooperation in waste management is very important, and encouraged the municipalities to help Kosovo's Environmental Protection Agency by cooperating more.
Meanwhile, Ms. Diellza Gashi, advanced researcher at Riinvest Institute presented briefly the main points of the report, with a special emphasis on the joint problems that municipalities face in waste management. Ms. Gashi presented practices of regional countries where municipalities have created inter-municipal associations for waste management, and consequently have benefited in different ways, such as lowering the operational and management costs.
Mr. Muhamet Bajrami, chief of the unit for waste management in the municipality of Prizren presented the adopted practices from the municipality of Prizren in waste management. The municipality of Prizren has implemented a 4 year project, financed by the Japan government, and as a result the unit for waste management has been created, within the department of public services.
The forum was closed with the discussion if the 16 municipal officials, that discussed on challenges and opportunities of cooperation. Meanwhile, Mr. Alban Hashani in his concluding remark, noted that from this joint discussion, the joint municipal problems were once again reconfirmed, that also came out from Riinvest Institute's report; thus he encouraged municipalities to cooperate more with each other.