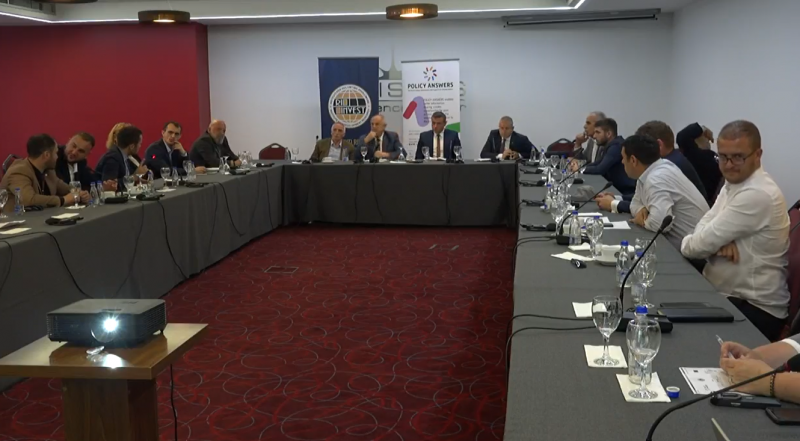 Riinvest Institute's Conference: Towards advancing R&I environment and its contribution
Continuing its activities within the "Policy Answers" project, supported by Horizon Europe, Riinvest Institute organized a conference with stakeholders and a larger audience on Tuesday, May 23, to present its summary reports 1) "State of play" at the R&I sector in Kosovo scrutinized from the researcher's perspective (2) Institutional and policy set-up to increase the foundation and advancement of policies and procedures in the financing and evaluation of R&I projects.
Following the presentations of key findings and policy recommendations by Dr. Isuf Berisha and Dr. Besnik Krasniqi (members of the PA project team), the participants at the conference, coming from research institutions, higher education institutions, the Academy of Sciences and Arts, and the EC office in Prishtina, contributed within an engaged debate to overcome institutional and policy shortcomings in the R&I sector in Kosovo, ensure meaningful participation at ERA, and strengthen its contribution to evidence-based policies. Policy recommendations provide concrete proposals and solutions regarding improvements in legal frame, institutional coordination (Quadruple helix) and how to achieve during next 3-5 years increase founding of R&I at least up to the average of WB6. Way ahead to consolidate research centers and entities at universities/ faculties, decentralize management of R&I and increase their absorptive capacities. Moreover, it was discussed about the need to include research in a work load of faculties, how to increase transparency and harmonize policies and procedures for applications for founding and evaluation process with those at EU and build statistical and information system to monitor and follow outcomes and developments through Statistical Agency as well.
Conference was live broadcasted at Facebook and covered also by three national TVs.